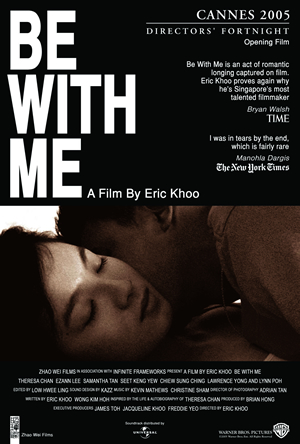 Last Sunday, I found this ORIGINAL (I just have to emphasise that) DVD in a media store at Central World for 99Bht! That's like just over S$4!
Rated M18 (I believe I remembered correctly) here,
Be With Me
is best remembered by many as the lesbian love movie. Truly, I had expected Eric Khoo to do better than cave in and sell his very poignant film on that one slice of a sexual subplot. The film thrives on more meatier stuff! Themes of isolation and longing to be with one's loved one hold the various subplots together.  I have just finished watching it and man, the subplot based on real-life dumb and deaf Theresa is bound to be a slap on anyone who complains about every molehill in life. Although the action is real slow, it is not boring at all - unless you are a totally calloused ass or assette! 
In my opinion, every one, young and old, should watch this film.  That is also why I chose not to say much about the content of the film.  Rest assure,
Be With Me
is not a Taiwanese weeper!
Check out the other reviews below :

Labels: movie