Saturday, June 7, 2008
suicide bomber told mom - I WANT TO DO IT | 9:46 AM
Saint 2 : I nearly slipped on the threadmill when I saw this headline on the TV console.
Maybe I think or feel too much (which is something good and bad), I truly wonder why would a mother allow her child to detonate herself into smitherines. I respect all religions. To say that does, however, imply that I am putting the blame on a particular religion, which I must qualify, I am NOT. This is the work of an extremist sadistic group which has tainted Islam and all Muslims around the world.
Who do we blame then? al Qaeda? - that which the American government is quick to point their finger at. The Amercian government themselves because they were the ones who had trained Osama to begin with? Perhaps. But does the extremists' anti-American sentiments justify targetting the whole world and innocent victims? Surely not!
There's the other issue much discussed by many - does violence beget more violence? As seen in the classic 9-11 bombing and the numerous copycat attacks on installations around the world, the extremist groups have all blamed the Western world's injustice against the Middle East for their attacks. In the following report (spoiler ahead!), the mother, nonchalently - a very chilling response indeed - mentioned that the sacrifice of her child was to avenge the death of a relative at the hands of the US soldiers in Iraq. So the vicioous cycle of violence just pepetuates itself with apparently no end in sight.
In conclusion, the extremists will never appease their anger if they continue this mindless war against the Western world. Hmmm, that's is not accurate either because Singapore was and still is a target up to date. in fact, every country is their target for their economic links with America. That is simply illogical, if you ask me. It is also sheer stupidity to send innocent lives to take away more innocent lives!
CNN
7 June 2008
Suicide bomber told mom: 'I want to do it'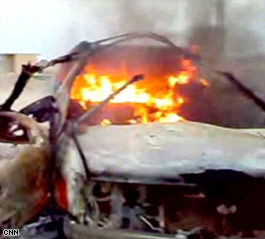 In remarkable footage of a police interrogation obtained by CNN, the mother of a young woman who killed four people in a suicide attack in Karbala, Iraq, explains how her daughter told her "Mom, I want to do it." Authorities in Iraq say growing numbers of women are offering themselves up for suicide missions

By Arwa Damon
CNN


BAGHDAD, Iraq (CNN) -- The mother's voice lacks emotion as she recalls how her daughter became a suicide bomber.

A woman used this car in a February 13 attack in Iraq. "God willing, she went to heaven," her mother says.

"She wanted to die in the name of God," she says on a videotape, her face peering out from under a dark brown head scarf.

"She told me she is sick of this life. ... So she spoke about the Americans. I told her, 'Where will you get Americans?' She said she will go after the Americans." Watch as the mother tells her story »

The daughter is one of 19 female suicide bombers this year, a number much higher than in previous years. According to the U.S. military, women carried out eight bombings in all of 2007.

In the February 13 attack, the daughter posed as a journalist with an English-speaking male accomplice, claiming that they had an interview with a prominent Iraqi tribal leader who works with U.S. forces.

Four guards protecting Sheikh Ifan al-Isawi were killed in the attack. Al-Isawi brought the mother in for questioning, and CNN obtained the video of the interrogation.

"God willing, she went to heaven," said the woman, whose son also was a suicide bomber in 2004. "She told me, 'Mom, I want to do it.' "

The latest bombing involving a female came Friday, when a man and woman targeted an Iraqi police checkpoint in Ramadi, west of Baghdad. The explosion wounded three police and two civilians, said an official with the Iraqi Interior Ministry.

Authorities said that al Qaeda in Iraq actively is recruiting women and that increasing numbers of women are offering themselves up for missions. The officials said the women are desperate and hopeless. Most have pre-existing ties to the insurgency, and their main motive is revenge for a male family member killed by U.S. or Iraqi forces in the war, authorities said.

"We do see certain members of cells attempting to persuade women, specifically in many cases wives or those who have been killed as terrorists, to conduct suicide operations," said U.S. Maj. Gen. Mark Hertling, whose area of operations includes the volatile province of Diyala.

Hertling's troops in Diyala have launched operations targeting members of families of suspected female bombers trying to break up the rings that are recruiting the women and girls. The U.S. military said it has six females in custody who were would-be suicide bombers. The youngest is 14, one U.S. official said on condition of anonymity.

Intelligence gathered from detainees indicates that al Qaeda in Iraq is looking for women with three main characteristics: those who are illiterate, are deeply religious or have financial struggles because most likely they've lost the male head of the household.

"They are also looking for someone who is young," Hertling said. "They will bypass an older widow."

Sheikh Adel Fahdawi, a Sunni leader, added, "If the woman's psychological state is bad, they try to lure her with the illusions that she will be going to heaven. ... All of them come from the families of terrorists, and they are being recruited and pressured."

In one bombing this year, a woman approached a police station in Diyala sobbing about her son. One witness said the woman referred to the local police commander as a "good man," adding, "I came for help." While she was being searched, her explosives detonated.

A woman who went to the bomb scene expressed outrage that another female would carry out such an attack.

Another female bomber used a similar tactic at an Iraqi army headquarters in Yusufiya, south of Baghdad, asking for the commanding officer, authorities said. As he approached, she blew herself up. The U.S. military detained a woman who it said confessed to being her handler.

"She was the person on the ground responsible for coordinating the final day or two of the attack," Capt. Michael Starz said. "[She] helped her prepare the device. ... She helped her affix it to her body."

According to U.S. intelligence, al Qaeda in Iraq uses suicide missions carried out by women to pressure its male fighters to step up and offer themselves up for attacks.

Classified documents given to CNN also indicate that the terrorist group is having increasing difficulty smuggling foreign fighters across the border from Syria after a recent military crackdown in the north.

The nationalities of most female bombers are unknown, but those identified in recent attacks are mainly Iraqi.

Females always have played a role in the insurgency in Iraq, helping feed militants, hiding them in their homes and helping sneak weapons around the country. They have proven to be highly effective in their operations as a result of the cultural convention that women are not to be searched.

Against a backdrop of such suffering and violence, U.S. and Iraqi officials said they fear that even more Iraqi women will turn themselves into bombs.

Fahdawi, the Sunni sheikh, said that more needs to be done to raise awareness through Iraq's imams, mosques and the media that al Qaeda in Iraq is preying on women.

"They need to expose the crime of al Qaeda. It is like the whole world is targeting Iraq," he said.
Disclaimer

The views and opinions expressed on this blog do not reflect that of the organisations which appear on the entries.


contact


stanleyah@hotmail.com
Tuition Resources
Links
Archives
Chill
Use of chatbox :
respect others and take responsibility for your post.
Get your free tag-board at
cbox
Credits